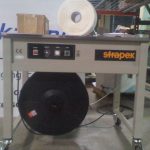 Industrial packaging equipment can be browsed online and ordered in just moments. When you are running any business, whether large or small, ease of ordering can mean a great deal to both you and your customers. Grant Packaging, LLC, with headquarters located around the greater St Louis area, specializes in brand names such as Acme,  Orgapack, Fromm and Encore.   Grant Packaging LLC offers plenty of choices for quality and value. Our strapping works great with Signode tools, also.
You can browse Grant Packaging's large selection of strap and strapping or banding tools at www.GrantPackagingLLC.com. You'll find all the tools you need to effectively, safely and quickly strap down your load. You can find everything from sealers, to tensioners, to strap in a variety of strengths and materials. From paper, to lumber, to bottles and cans, our strapping systems ensure the protection of your products during handling, storage and throughout the shipping process.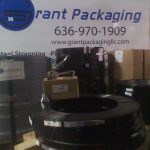 You will want to choose your industrial packaging equipment according to the type and weight of your load. Do you need extra-tensile strength strapping? Are you concerned about shipping weight or forklift dependence? Perhaps you simply want a safer, cleaner job site, and are interested in learning about steel alternatives for these reasons.
Whether you are hauling lumber or other industrial supplies, Grant Packaging can help. When you call 866-GRANT-PAC, you can order strapping tools, strap and accessories, as well as get answers to your packaging questions. Grant Packaging is committed to offering competitive prices and superior service to companies throughout Kansas, Missouri, Illinois, Arkansas, Iowa and Indiana. If you are unsure of product packaging requirements please do not hesitate to contact us for immediate professional help.